I finished up Week 23 yesterday despite the fact that I am both physically and mentally exhausted.
This week I decorated Bowen's room, we played Potato Heads, spent Wednesday in the Emergency Room (with no answers still), and Bowen was blessed to be able to attend Vacation Bible School for the first time, Bowen had swim lessons, and we ate entirely too many meals at McDonald's this week.
Here's the left side:
And the right side: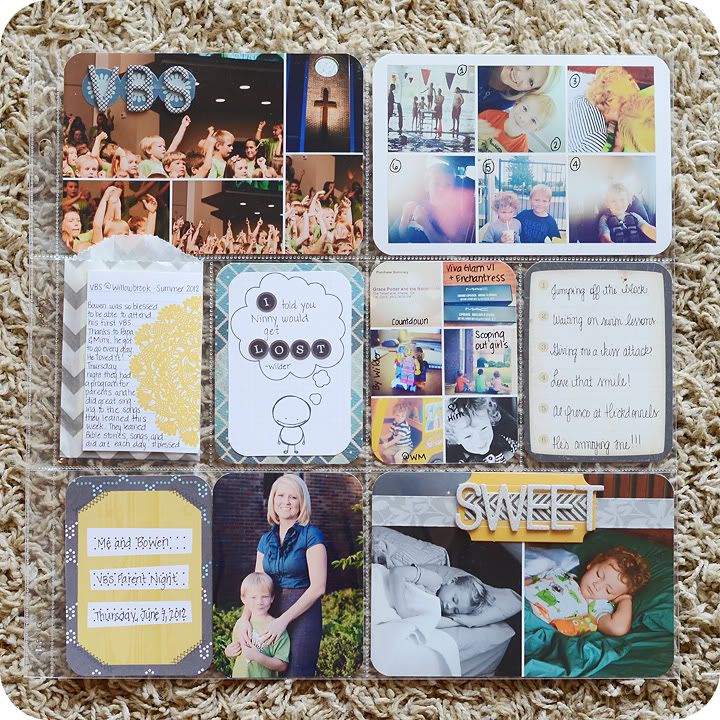 And some details:
This card was in a 12x12 sheet that I ordered from www.scrapbook.com. I love these journal cards because they're usually cheaper than pre-cut cards, and look just as good. I can't remember the brand. I stink that keeping up with that sort of thing.
These two slots encompass our trip to the Emergency Room. I've blacked out my husband's details. We were there all day and still do not know what is wrong. The journal card is a Becky Higgins folded journal card from the Cobalt Kit. I believe the grey tag is from Mish Wooderson's Big Cartel store.
This cracks me up. I mentioned something about the boys needing a bath one day this week, and Bowen said "I've already had a bath, I got a SPIT BATH." Cracked me up to no end. And for the record, he didn't use "spit," but rather a wet washcloth. :) Card is from A Life Handmade on Etsy, and I believe the back paper is from My Mind's Eye. The blue alpha is from Studio Calico and the other is Amy Tangerine.
My weekly title card uses paper from My Mind's Eye (I think), and alphas from Amy Tangerine.
This bag is from Mish Wooderson's store, and the journal card with the yellow doily is from Ardent Sparrow at www.onestorydown.com, the Lulu collection. The bag contains Bowen's Bible verses that he collected and learned about this week at VBS. The quote card is by Splendid Fiins at www.jessicasprague.com.