I finally finished my Disney Album from our first Disney trip that we took this past April. Let me tell you, this was no small undertaking. It took me forever! But it was a labor of love, and I am so glad that I have this trip documented. I had originally planned to use a
Studio Calico handbook
to document the trip, but soon realize that I just had too many pictures and ephemera to include, so I picked up this
Amy Tangerine album
to use instead.
Each spread in this album is picture-heavy, and that's how I like it. I did include quite a bit of journaling, and I may go back and add more later as I remember things.
I started the album by pulling together a "kit" of items to use. I thought that this might help streamline the process as well as keep the pages of the album cohesive in colors and patterns.
Here's a shot of part of the items in my "kit."
And here's my album: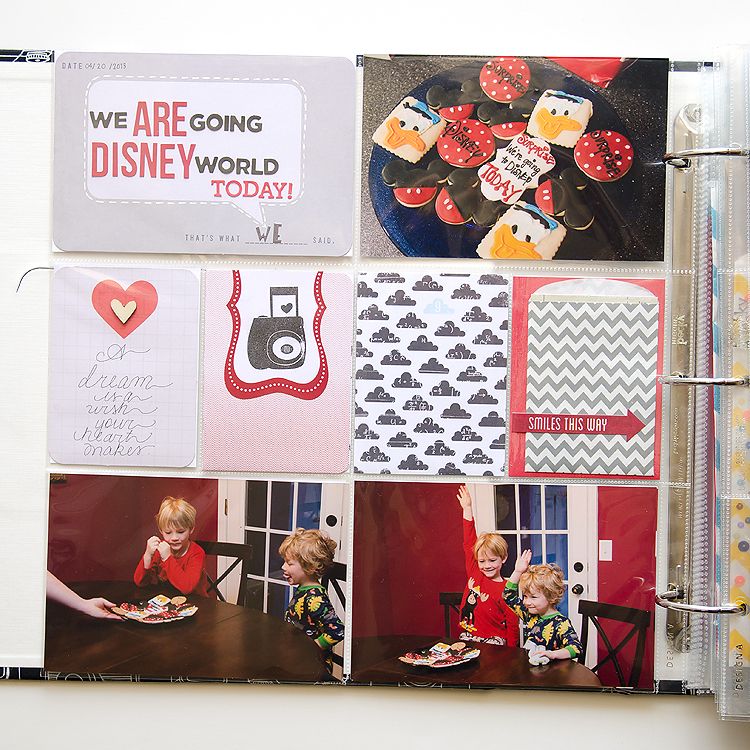 We surprised the boys with this trip. They had no idea we'd be going to Disney this year, much less TODAY! Seeing the look on their faces was priceless.
And then we surprised them with their first plane flight! They did great! Most of the items on this page are from October Afternoon's Travel Girl line.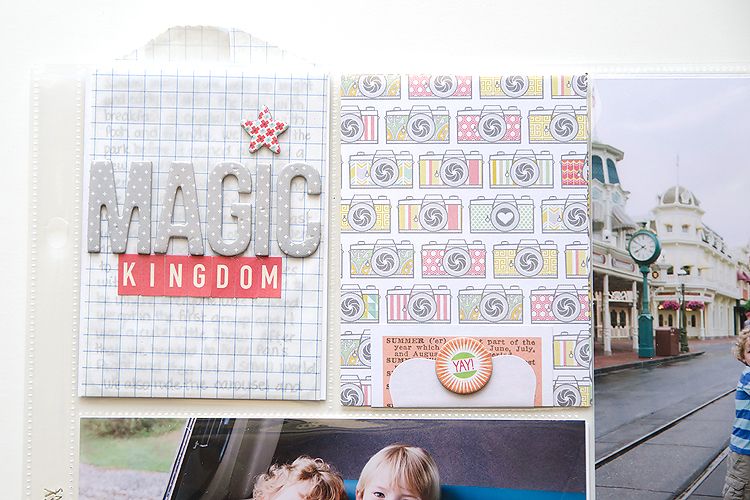 The little baggie contains some journaling from our first day at Disney World.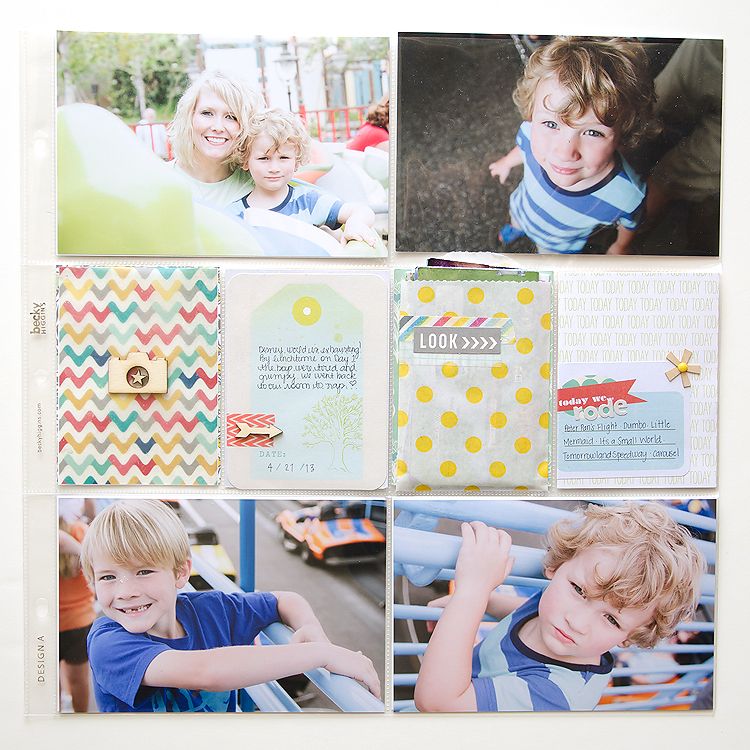 The yellow polka dot baggie contains our creased and ragged Magic Kingdom Map that we carried in our pocket the whole day as well as a Times Guide.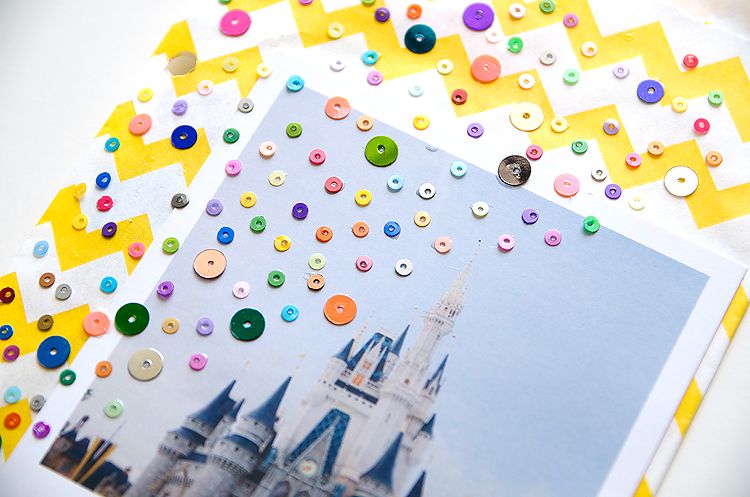 This bag contains some confetti we collected after a parade.
This envelope contains several of our receipts from the trip as well as some extra fast passes that didn't make it into other pockets.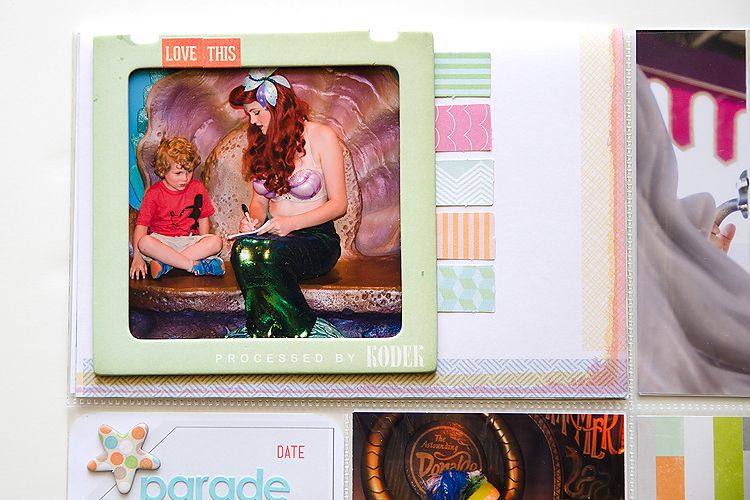 This is a flip up that includes another picture of Wilder aka Robert on the inside. Twice during this trip, people thought he said his name was Robert. His autograph from Ariel even reads: "To Robert, Love, Ariel." I love his face here. He didn't know that he was going to be meeting Ariel face to face, so it was a bit of a surprise. The Voyage of the Little Mermaid ride was his favorite in all of Magic Kingdom. So we had to meet Ariel in her Grotto.
Had to have a Mickey Balloon. Isn't that a given?
More rainbow stamping using the same colors I used on the first page. Stamp from Studio Calico.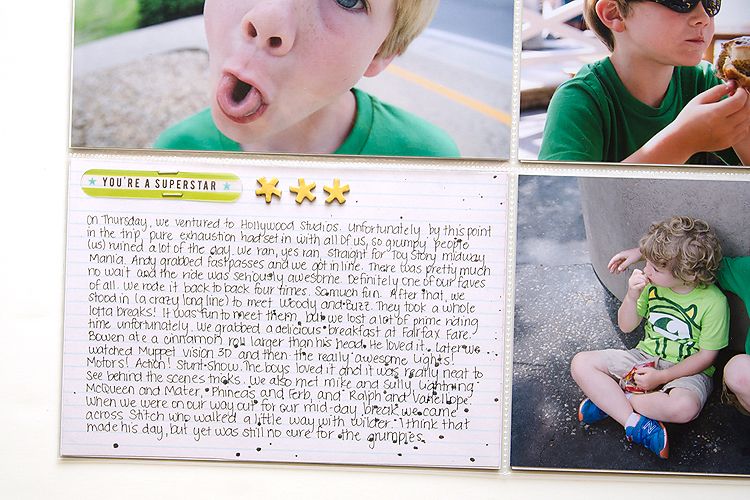 Keeping it real, folks, keeping it real.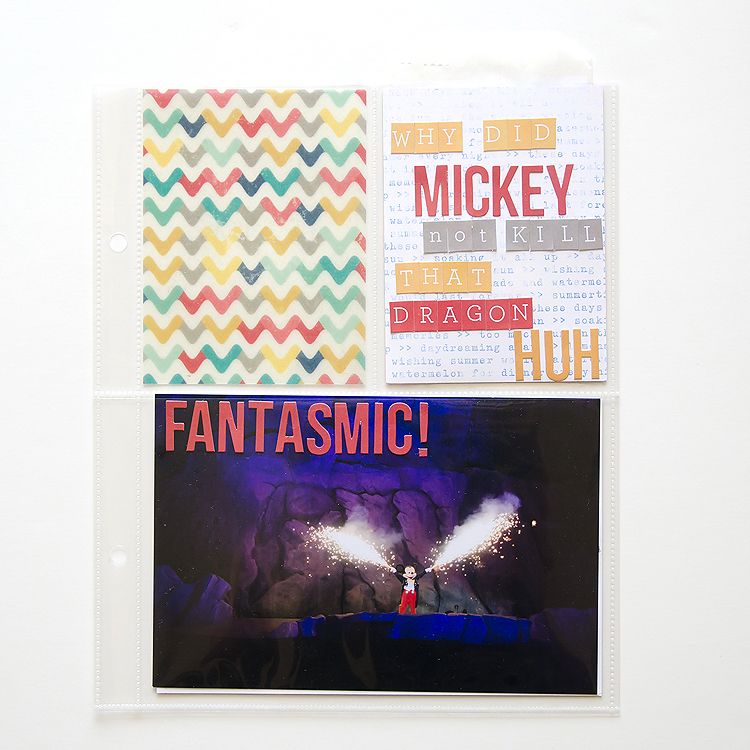 I had to include this epic quote from Wilder. We still repeat it throughout our days at home. He is so funny. As a side note, Fantasmic was an utter disappointment to all of us and Bowen couldn't figure out why it wasn't a "Happy Show."
This bag contains maps of each park along with the Times guides for the week we were there.